Early Life
Umberto was born in Cuba to Alberto Robina. At some point in his life, Umberto became the leader of\founded the Los Cabrones (later will be known as "the Cubans"), and later moved to Vice City, Florida, United States.
1984
In 1984, as the leader of Cubans (Also known as Los Cabrones), he sends Victor Vance on missions to wipe out his most hated gang, The Cholos, which replaced the controversial Haitians in Vice City (The Haitians were removed from the game due to public backlash). Like his appearance in Vice City, Umberto is obsessed about how much "cojones" (referring to both the courage and the actual testicle size) his vato's usually have. Victor saves Umberto's father, Alberto Robina, from the Cholos. Umberto, along with Phil Cassidy and two Cuban men, help Lance and Vic defend their businesses from assaults by the Mendez Brothers' henchmen. It is the only time that Umberto actually does "dirty work".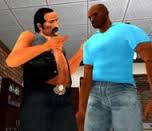 1986
Umberto Robina is still the leader of the Cubans in Vice City two years later, who has been involved in a long-term Vice City turf war with Haitians. He is an extremely macho man who wants to wage full scale war with the Haitians, however, he has never been personally implicated in a crime and his bravery has been questioned within Cuban circles. He is good friends with Tommy Vercetti and treats him as an equal person. It is unknown what happens to Umberto in the end, but it is likely that the Cubans are allied with the Vercetti Gang because of Tommy's work for Umberto.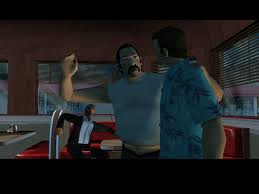 Early 90's
As time went on, the gang war between the Haitians and Cubans were reaching it's peak. One summer's day, Umberto was with his father (Alberto) and the other Cuban gang members having a drink at their cafe when one of the Cuban's who were on their way back from the beach tells them that a team of SWAT members were on their way to raid there cafe. This was due to an apparent complaint or a snake in a grass who reported Umberto and his crew to the police about hiding  cocaine and the money they've made from it in the cafe. Umberto and his father quickly packed their things with the help of the other Cuban's and immediately headed to the Escobar International Airport to depart from the city for good. Luckily, they managed to book tickets for a flight back to Havana, Cuba but Umberto received a mysterious phone call. He picked it up and it was Hector (Huendro). Both of their families were in good connections which resulted in Umberto and Hector becoming best friends from early childhood. Hector pleaded help from Umberto to come to San Andreas and help their gang with things there. Umberto's cousin, Juan, desperately wanted to go with Umberto since they were close since childhood so Umberto agreed to take him along. Without any hesitation, Umberto ordered his father alongside the fellow Cuban's to board the plane for Cuba and for the Cuban gang members to go and look after their family's, meanwhile, Umberto booked two seperate tickets for himself and Juan for Los Santos and boarded the following plane. The next day, the pair arrived in Los Santos. He quickly called up Tommy Vercetti to let him know about the whole situation and Tommy understood what was said and moved on with his life. Then, Umberto made a phone call to Hector to come pick him up from the airport. Umberto and Juan adapted to the life in San Andreas in quick succession despite missing their family and old gang back in Cuba. The fellow Vago vato's treated him and Juan as one of them so Hector handed Umberto the responsibility of being his right hand man in the gang, meanwhile, Juan became a Soldado in the gang. To this day, Umberto and Juan are currently rolling with the East Side Vago's and are doing whatever possible to keep his cousin & best friend happy and to take their familia to the top.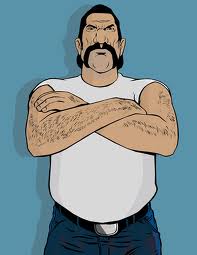 General
Name: Umberto Robina
Age: 44
Date Of Birth: May 16th 1949
Place Of Birth: Havana, Cuba.
Current Address: East Pacific 229, East Beach.
Occupation: Distinct gang member and dealer.
Appearance
Height: 191cm/6'2
Weight: 127kg
Eye Color: Dark brown.
Hair colour: Dark brown, mid-length.
Body type: Stocky and slightly musclar.
Relationships
Father: Alberto Robina
Mother: Adriana Robina
Brothers/Sisters: Unknown
Cousins: Juan Robina ([V]Bizzle)
Spouse: None
Friends: Hector ([V]Huendro), Sunny ([V]SunRise) Lokz ([V]Lokztero), Jose ([V]Lewis), (Isaah), Malv (Malvado), Aziro (Antwan) and Diego ([V]Rusu).
Past friends: Victor Vance, Tommy Vercetti, Lance Vance, Rico, Pepe, Martinez, Phil Cassidy and various old Cuban gang members.
Preferences
Food: Mexican/Spanish styled food.
Drink: Corona Beer.
Clothing: Anything that looks manly.
Music: Traditional latino music, Reggae, various hip-hop/rap, Soul.
Like people: Men who have big balls, who are loyal, who are trustworthy, who are caring, sexy women.
Dislike people: Who are snitches, who are unloyal, who are cocky, men who have small balls, who lie, ugly women.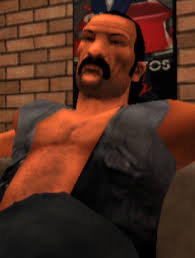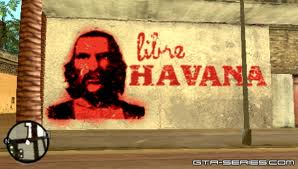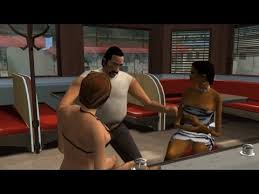 Posts

: 164


Join date

: 2014-07-10






Posts

: 43


Join date

: 2014-07-11


Age

: 23






Posts

: 15


Join date

: 2014-08-07



((Thanks guys

))



Posts

: 164


Join date

: 2014-07-10






Posts

: 58


Join date

: 2014-07-28



Similar topics
---
Permissions in this forum:
You
cannot
reply to topics in this forum