Front Yard Ballas are one of the first Ballas sets around the city of Los Santos. They are known for wearing purple clothes and they are involved with gun dealing and drug trade. You can see the members of the set around Idlewood, mostly around the Crack Den, Crystal Gardens housing projects and the 28th street smoking pot or crack, drinking and chilling. It all began in the 1970s when Ballas gang split up into different sets. Front Yard Ballas were formed in Idlewood, their main location was Crystal Gardens where their crack den is located. Their biggest enemies are their neighbours from Ganton, Grove Street Families. At the start the beef between them wasn't very serious, they were attacking eachother with fists and bats only. Later on, in the mid 1980s when crack epidemic hit Los Santos, it spread around all the territory, facilitating the growth of the Front Yard Ballas. They were ready to receive heavy weaponry, after that happened, a big gang war begun. Shootings were an everyday thing, many of them occurred near the train tracks that seperate Idlewood from Ganton. Both sides lost too much members and many OGs died in the war. Nowadays, the Front Yard Ballas are one of the most infuential Balla sets in Los Santos, they are not strong as they used to be, now they are mainly focusing on drugs trade and the music industry rather than gun dealing and gang wars. The founder of Idlewood Ballas is Nilson from 28th street. Idlewood Ballas, also known by the acronym [IB], started around 1970 as the third Ballas set in LS, formed after Kilo Tray Ballas and Rollin' Heightz Ballas. Nilson started the IB set with his homies to gain power over his neighbourhood, Idlewood. He immediately made tight connections to drug dealers, so Front Yard was known as crack feins from the very beginning. He soon started to recruit people from Idlewood to his gang. Their main rivals, the Orange Grove Families split up into three different sets, so the Ballas were in control now. During this period, there where many walk up's and many stabbings, but not too much gun play. Nilson died in a car accident. During his funeral Grove Street Families attacked Front Yard Ballas, two people were killed. Whilst Idlewood was without a true leader in this period, Grove Street Families took advantage of it. They started to attack them with weapons, and many people from Idlewood have been killed during that time period. Around 1980, Idlewood Ballas disappeared from the map, this went on for 7 years. A promising, young, black male then attempted to revive the set. His name was Quincy Carter, also known as Q or Cube. He started to think how to get revenge on the Grove Street Families. He made connections with the gun dealers and started to receive heavy weaponry, so the Idlewood Ballas were in control once again. Cube made the gang stronger than ever. In 1991, the summer was about to get hot with many gangs beefing eachother. Cube was shot and killed in East Beach by the Seville Boulevard Families. During the 90s, many OGs were in charge, they were fighting for their hood, people like Roz, Bk, Inch, Barry, Weasel, Sonny, Dre, Mark and his brother Jamal, and many others. In this period the war with Grove street reached its peek. Idlewood Ballas were also beefing other Ballas sets to take control over the drug business and the inner city territory. As time went on, the new era began. Only some of the old OGs were here. Roz, Inch and J' are still around the neighbourhood. In this era, there were three leaders, first it was Bull, Jamal set him in charge after being locked up in the cell. It was a hard time for Front Yard Ballas they almost disappeared from the map again. After Bull was killed in a drive by that Temple Drive Families pulled off near ELS courts, Eric took charge. Bull also made tight connections with Rollin' Heightz Ballas. E' disappeared quickly. After his disappearance, there wasn't a real leader in the streets, everyone was just doing things on their own, no one listened to OGs, things were messed up around Idlewood. Later on Lance, known by his street name Kane decided to set things straight in Idlewood once again so he reunited the Front Yard again, he is still in charge to this day, Idlewood's biggest rival remains the three of the sets from the Families. The Front Yard and Jefferson Ballas remained close for a while and tried to succeed together, however, one day, Grove Street Families made a big attack on both the sets at the Jefferson Motel. Suddenly, to Idlewood and Jefferson's amazement, the Temple Drive Ballas come to their aid and end up wiping out the attacking Grove members. The three Balla sets (IB,JB & TDB) then formed an alliance. A few months later, the Ballas from Kilo Tray made a return, Lance decided to hold a group meeting at the Crack Den to form what is now called, The Ballas Nation. This alliance consisted of the four Ballas sets working together against the other street gangs in Los Santos. Idlewood and Jefferson led the alliance and to this day, all four of the Balla sets are in good terms with each other. Their plan is to keep the fight going against the Families until they're wiped out completely. Idlewood Ballas were also allied with Varrio Los Aztecas and helped them fight Vagos but due to their disappearance from the streets, relationship with them is gone now.

IC
Don't drive gang's vehicles unless you got a good reason, you can walk on foot in your hood.
Don't ever leave your hood for no reason, spend the most time in it and chill with your homies.
Don't be a snitch, talking to the cops will get you fucked up badly, if not killed.
ALWAYS follow OG's orders and respect everyone in the gang, or else you'll receive a punishment.
Don't ever pull out a strap on a cop unless it's the last resort.
Once you're in, it's for life, you want to be out, the only way is with a bullet to the brain.
OOC
Follow all the server rules, breaking them is also against Idlewood Ballas rules.
Racism is not allowed as it's stated in the server rules.
Keep OOC chat to a minimum, there is /pm function for a reason.
Roleplay to the highest possible level, make detailed /me's and /do's and never be lazy with your RP.
Upon joining us, you automatically accept a CK if we want you out, or if you want to be out.

You need to find us and introduce yourself, but don't expect to get treated with cookies on the first day because you need to earn your name around the hood. You should choose a young age between 14-17 because we don't accept the old guns, you need to develop your character, not already be a gangster who goes around and kills his enemies on sight. Your character is going to grow up in the hood and earn respect by doing criminal acts for the set. You need to show respect to other gang members and you will get the respect back, and once you will get invited as official member. You also need to show loyalty, because we won't accept you after one or two days, we have to make sure that you won't leave us soon after you join, because we don't accept gang hoppers. It may take some time for us to test your roleplay skills and to test your strenght ICly, it all depends on your roleplay skills and your character build up.

Allies

Jefferson Ballas
Glen Park Ballas
Market Ballas
Varrio Los Aztecas
Top Shottas

Neutral

Vagos
Gun Dealers
Enemies

Grove Street Families
Seville Boulevard Families
Temple Drive Families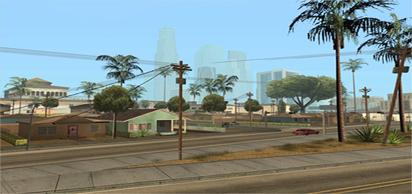 Idlewood is a district in Los Santos which is bordering with Jefferson, Ganton, El Corona and Little Mexico. The neighborhood has a high crime-rate and is notorious for gang violence, drug-trafficking and prostitution. Idlewood consists of small, single-family houses, Crystal gardens housing projects, tattoo shop, barber shop, stores, a Pizza Stack restaurant, a gas station, a motel, a liquor deli known as Tony's liquor, a few warehouses and the Alhambra club. It's an African-American neighborhood and it's full with dope dealers and prostitutes. It is a stronghold for Los Santos Ballas gang, which is controlled by a Balla set known as Idlewood Ballas. There is a lot of crack fiends in Idlewood and approximately every third resident is a drug addict. The main street which connects Idlewood to Jefferson is called Rosecrans Avenue, the most famous street known for gang activity is 28th street which is located in the western part of Idlewood.

[IB]Cube[OG]
[LSB]Nilson
[IB]Rozstal
[IB]Mark[RK]
[SAP]Bayke[IB]
[IB]Inch
[IB]Boudha
[IB]Mistycon
[IB]Malcolm
[IB]TDM
[IB]Alican
[IB]Arenas
[IB]Tyson
[IB]Statiic
[IB]JamalB
[IB]Weasel
[IB]Purple_Eyez
[IB]Redman
[IB]Sonny
[IB]Bugz
[IB]Tyson
[IB]Lazy
[IB]Dre
[IB]Eightz
[IB]Kimi
[IB]Barrie[ICR]
[IB]Micklo
[IB]Paert
[IB]Crrazzy
[IB]Blizz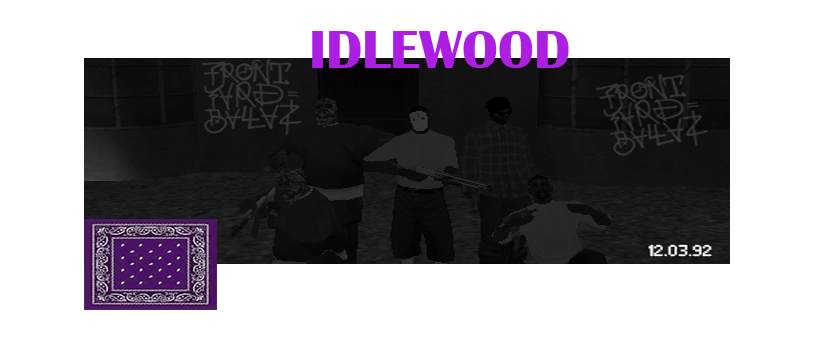 Last edited by [IB]Lance on Tue Jul 29, 2014 7:32 pm; edited 6 times in total



Posts

: 80


Join date

: 2014-07-12


Location

: Zemun, vutra town



Server Admin





Posts

: 50


Join date

: 2014-07-14



Good work. dunno why you didn't add the dealers in the diplomacy but anw




Posts

: 130


Join date

: 2014-07-20



Head of Moderators





Posts

: 93


Join date

: 2014-07-24


Location

: England



I'C story .....
my name is Jack Dived .. am 18 years old ... i was live in San Firo .. i was go to high school like any one .. and do some shit in my hood like sell drug's to get money ..  
one day Friend of my brother call me .. and he start cry in phone .. he tell me ..
in phone : man ,, shit , i cant say that ,, shit ,,
me in phone : man what ?
in phone : you brother ..
me in phone : what about hem' ?
in phone : he get shoot in head man .. we was do job ..
me in phone : what !!! man fuck what that job what you talking about who kill my brother ?
in phone : man we join gang here .. your brother was act like danger one in city .. Grove's Member'z kill hem ..
me in phone : what grove ?? who is that shit ?
in phone : grove street fam ... its danger gang in Los santos ...
..................
after this call .. i take my stuff and move to los santos ..
and rent room in small motel in  Idlewood ...
Idlewood .. its territory of balla's gang ...
and am try to find some one can help me ..
after that all meet some one his name JH and he say will help me to do all thing i want..
now i will try to find the grove street mamber and end that gang ..
Rip for my brother .. Welcom for Gangsta Life ..
--------
OOC : this is my story and you will meet me in Idlewood
IG name : Fast



Posts

: 12


Join date

: 2014-08-07



Damn OJ. I see you aint friends with English language are you?
You could make the story more original and longer and post it in IC section.



Posts

: 95


Join date

: 2014-07-27



---
Permissions in this forum:
You
cannot
reply to topics in this forum